Hong Kong Inter-University German Speech Competition
- With the kind support of the German Consulate General, Austrian Consulate General, Consulate General of Switzerland, SWISS and Premiere Collections Ltd.
November 15, 2014, 2:30 - 6:00p.m.
The University of Hong Kong
CPD-LG18 , Run Run Shaw Tower, Centennial Campus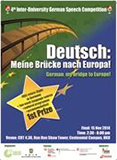 This year, the Inter-University German Speech Competition will once again be held for the fourth time. The theme of this year's speech competition is: "German: My bridge to Europe ". German Language Departments of five universities, including Hong Kong Baptist University, Chinese University of Hong Kong, Hong Kong City University, the University of Hong Kong and Hong Kong University of Science and Technology, are taking part in this event. Three students will be preselected and representing their Universities for the final competition, which is going to be hosted in the University of Hong Kong this year. The jury is made of prominent participants including consulates of Germany, Austria and Switzerland. The presentations will be adjudicated on the basis of content, argumentation approach, language as well as creativity in interpreting the theme.
The winner will be awarded a two-week language course with a Goethe-Institut in Germany, accommodation and cultural programs will be granted. Additional attractive prizes will be awarded as well. This year, SWISS is generously supporting the event by sponsoring the ticket to Germany for the winner. Also Premiere Collections is generously sponsoring prizes. Patrons and sponsors of this competition which was initiated by Goethe-Institut Hong Kong are the Consulates of the German-speaking countries Germany, Austria, Switzerland.
Restrictions: The following applicants will not be allowed to participate in the speech competition in order to maintain a level playing field for all participants:
• Applicants who have spent more than 6 months continuously in a German-speaking country
• Applicants with a German-speaking parent
• Applicants who have studied German for an extended period of time at the German Swiss International School